The First Online Collaborative Global Assessment of Archaeological Knowledge on Land Use
The ArchaeoGlobe Project is a "massively collaborative effort" (see Gowers & Nielsen 2009) to assess archaeological knowledge on human land use across the globe over the past 10,000 years.
The project recruited a broad network of archaeologists to share expert knowledge on past land use across 146 regions spanning all continents except Antarctica, through a questionnaire on regional land use in 10 distinct timeslices (10,000 BP, 8,000 BP, 6,000 BP, 4,000 BP, 3,000 BP, 2,000 BP, 1,000 BP, 1500 CE, 1750 CE, 1850 CE). The results represent the first global inventory of archaeological expert knowledge on Earth's long-term transformation by human use of land.
All data, results and publications are available for free download as #opendata in the ArchaeoGLOBE Harvard DataVerse
View the global map of regions and subregions in Google Maps.
View the regions without Google Maps
The project assessed levels of knowledge on four land use categories:

Foraging/hunting/gathering/fishing
Extensive agriculture
Intensive agriculture
Pastoralism
Urbanism (presence/absence)

The Questionnaire went live May 18, 2018 and closed to new contributors July 31, 2018.
>1300 Archaeologists were invited by email.
255 archaeologists contributed their knowledge; >105 as coauthors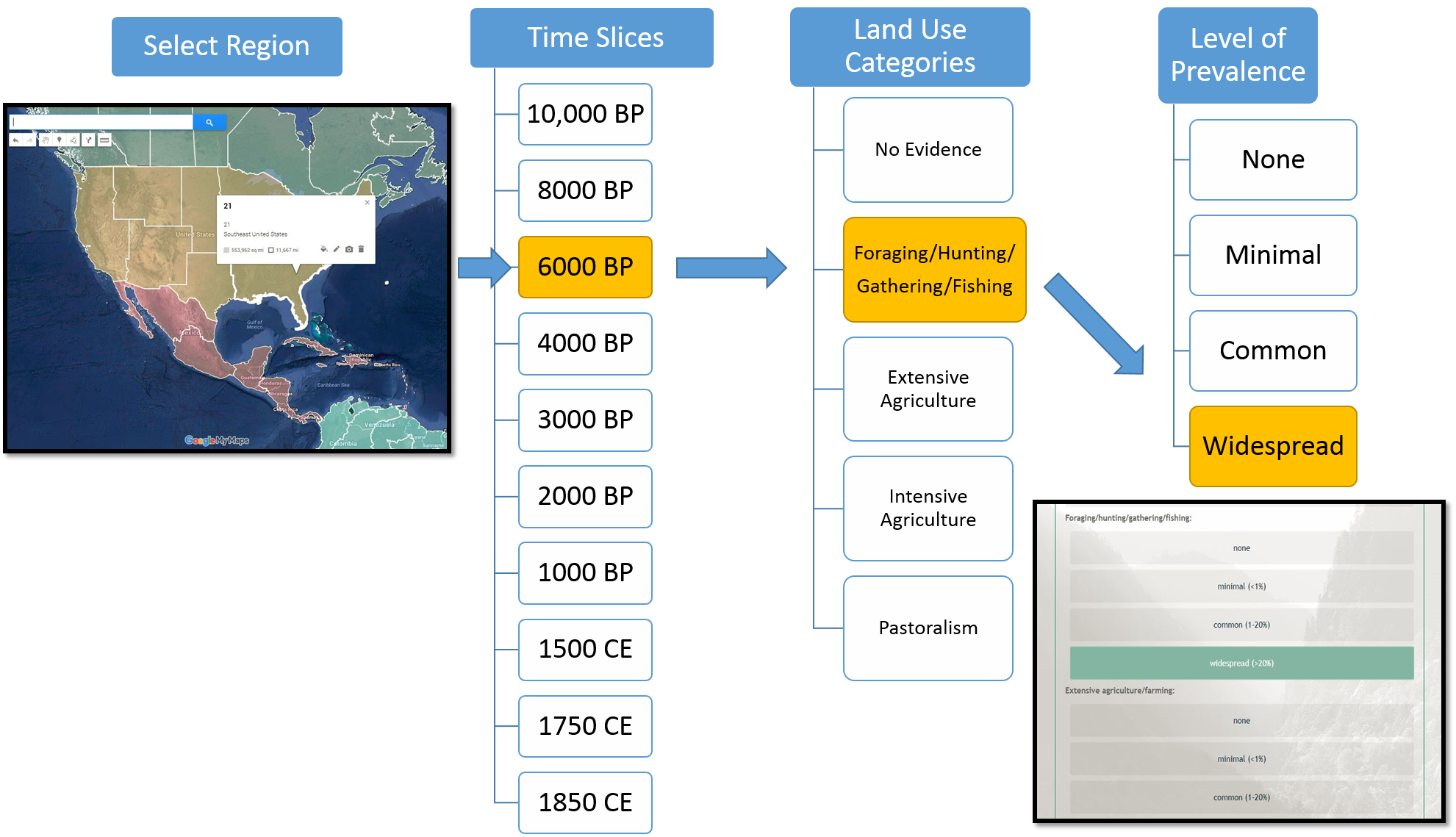 -> Contact Lucas Stephens <lucas.s.stephens@gmail.com> or Erle Ellis <ece@umbc.edu> for more information.
---
Dorian Fuller, Institute of Archaeology, University College London
Nicole Boivin, Department of Archaeology, Max Planck Institute for the Science of Human History
Torben Rick, Department of Anthropology, Smithsonian National Museum of Natural History
Nicolas Gauthier, Anthropology, School of Human Evolution and Social Change, Arizona State University
Andrea Kay, Department of Archaeology, Max Planck Institute for the Science of Human History
Ben Marwick, Department of Anthropology, University of Washington
Erle Ellis, Geography & Environmental Systems, University of Maryland Baltimore County
---
Image credit: NASA Visible Earth